242 fighters from 48 countries will take a part in the 3rd KWU World championship
among men and women in weight categories on 9-10 December 2017 Ekaterinburg, Russia.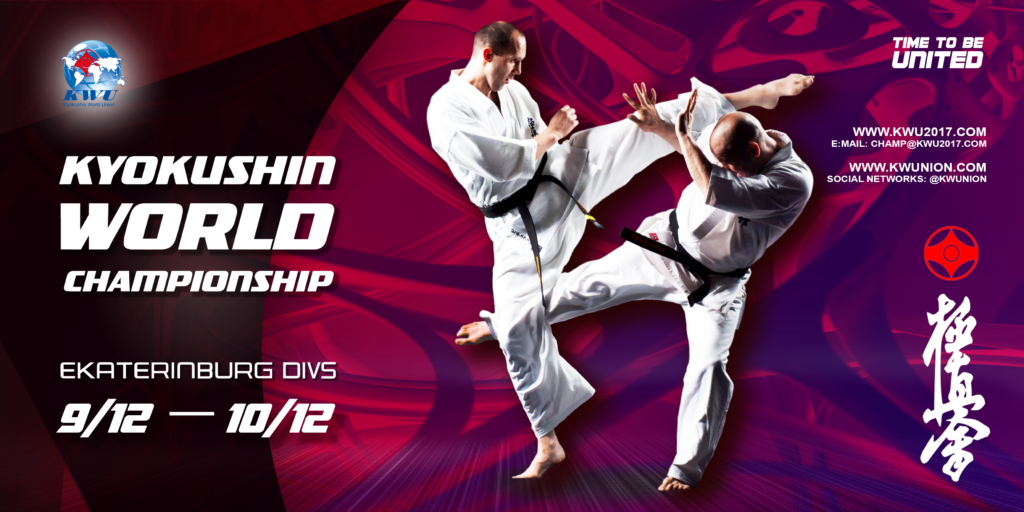 Our Special guest:
⦁ Romas Vitkauskas
VICE-PRESIDENT OF WKO Europe
⦁ Koen Scharrenberg
VICE -PRESIDENT OF WKO
⦁ David Pickthall
IFK VICE-PRESIDENT
⦁ Ivo Kamenov
PROFESSIONAL LEAGUE OF KWU
⦁ Yuri Trutnev
SUPREME JUDGE
CO-CHAIRMAN OF KWU
⦁ Hatsuo Royama
PRESIDENT OF KI
⦁ Antonio Pinero
PRESIDENT OF KWF
⦁ Andre Drewniak
KWF GENERAL SECRETARY
⦁ Andrey Alshevskikh
STATE DUMA DEPUTY OF RUSSIA
⦁ Mikhail Slipenchuk
MEMBER OF THE PRESIDIUM OF RKA
⦁ Viktor Fomin
International Federation of Karate (RUSSIA)
⦁ Alexandr Tanyushkin
MEMBER OF THE PRESIDIUM OF RKA
⦁ Yuri Shabanov
MEMBER OF THE PRESIDIUM OF RKA
LEONID RAPOPORT
MINISTER OF PHYSICAL CULTURE AND SPORTS OF THE SVERDLOVSK REGION
Arkady Chernetsky
Senator of the Federation Council from the Sverdlovsk region
Igor Petrukhin
RUSSIAN KYOKUSHINKAI ASSOCIATION
Evgeny Kuyvashev
GOVERNOR OF SVERDLOVSK REGION
IGOR ALTUSHKIN
Chairman of the Board of Directors of the Russian Copper Company
Alexey Gorbylev
KYOKUSHIN-KAN KARATE ORGANIZATION (RKA)
BORIS GRISHIN
Director of the Department of State Policy in the Sphere of Sport and International Cooperation
Sergey Suvorov
GENERAL SEСRETARY OF KWU
SERGEY CHEPIKOV
Olympic gold medalist biathlon
aleksandr tibulevich
assistant of PRESIDENT OF KI
Aleksandr Alimov
RUSSIAN KYOKUSHINKAI ASSOCIATION
Hennie Bossman
COUNRTY REPRESENTATIVE OF KI SOUTH AFRICA
About tournament:
The most experienced athlete in women division is Diana Maciute from Lithuania, she is 37 years old and she is holder of the 4th dan – this is the highest degree among all women participants.
In this tournament, 8 medal winners from the previous KWU World Championships take part.
The most titled KWU sportswoman Anzhelika Sabayeva has twice won the KWU World Championships, and she is the only competitor who has a chance to win the third gold in a row.
Emma Markwell became two-time silver medalist. Aneta Meskauskiene has silver and bronze awards.
A Russian athlete Maria Panova has a silver award of the 1st World Championship.
Bronze medals are kept by four other athletes who will also participate in the 2017 World Championship.
About our Male fighters: 146 fighters are holders of black belts and among them are two shihans (6th and 5th dan), 28 senseis (4th and 3rd dan), 51 possesses 2nd dan, and 65 competitors have 1st dan.
The youngest participant of the Championship among men is Sayes Mohammed Amine from Tunisia, in the summer he turned 18 years old. The oldest competitor of the tournament will be the Swedish shihan Denito Brandon (6th Dan), he will be 55 years old on the day of the tournament.
In the list of participants there are 15 prizewinners of the previous KWU World Championships. Four of them have already won the Championship: Artur Arushanian, Farid Kasumov, Merey Suyunov and Vasily Samadurov. Besides Farid Kasumov, who distinguished himself at the 1st KWU World Championships, all others are acting champions.
Two-time prize-winners of the Championships were Alexander Komanov from Bulgaria, who won silver twice (and in different weight classes) and the famous Spanish competitor Pablo Estensoro, a two-time bronze medalist.