And another battle at SENSHI 6! Jean-Paul Jacquot from France is fighting Merey Suyunov from Kazakhstan.
The professional fight show takes place in Kamchia, Bulgaria, on August 21 (Friday).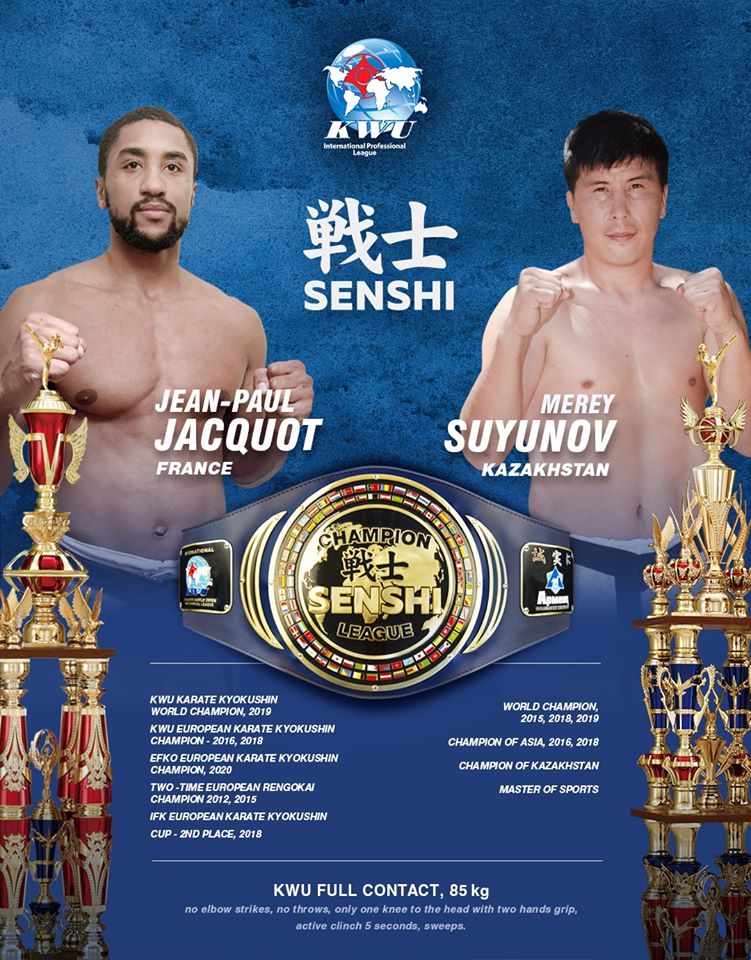 The bout will be conducted under the KWU Full Contact rules in the -85 kg category (all kinds of boxing punches, spinning back fist, all kinds of kicks; one knee kick to the head after a two-handed grab; clinching up to 5 seconds; sweep kicks; leg grab and kick without pulling or pushing the opponent is ALLOWED).
Jean-Paul Jacquot's achievements are well know. In Karate he won the V-World Championship (2019). He is 3 times European champion (2016, 2018 KWU, EFKO 2020), 2 times V European champion (Rengokai 2012, 2015), IFK (Cup of Europe) he took 2nd place in 2018.
In other disciplines – French Thai Boxing is amateur champion (2017), French Viet vo Dao – Champion (2016). Jacquot is presenting the gym Kyokushin Paris.
Merey Suyunov is one of the big names in Asia. He is World Champion in Karate 2015, 2018 and 2019. He is also Asian champion (2016, 2018) and champion of Kazakhstan. Suynov is Master of sports with 23 years of experience in martial arts.
He is prestenting the gym Center Karate Taldykorgan.