The 14th annual KWU Summer Camp will be taking place this week in Kamchiya, Bulgaria. The international camp is by far the biggest event in the world of Karate Kyokushin in the last 13 years. This year more than 600 participants from 14 countries take a part.
The 2020 KWU Summer Camp will include KWU International Professional League training sessions conducted under the guidance of Shihan Aleksandr Pichkunov (5 dan), Shihan Marin Mitev (6 dan) and Shihan Ivo Kamenov (6 dan) – Chairman of the KWU International Professional League and Chairman of Bulgaria's National martial arts association. The sixth edition of the SENSHI fight night will take place on Friday (21.08), while the degree promotion exams will take place the very next day from 8 to 12 a.m.
Also, there will be held Iaido training sessions – an ancient martial art that is incorporated and represented every year at the KWU International Summer camp.
The remaining instructors of the camp that will be taking part in the 2020 KWU Summer Camp are Shihan Asen Asenov (6 dan), Shihan Ramil Gabbasov (5 dan), Sensei Zahari Damyanov (4 dan).
Once again, special guests of the KWU International Professional League seminar will be the kickboxing legends Semmy Schilt, Peter Aerts, and Ernesto Hoost.
It is also planned to hold as part of the International Summer Camp the KWU Youth World Cup (18-21 y.o.), which is the successor of the International Varna Cup, held since 2017. The first international tournament Varna Cup was held in 2017 and was a success. Due to the great interest and increasing number of participating countries, in 2019 the format changed to the World Cup for young karate talents. But before this event, there will be held Judicial seminar led by Shihan Ramil Gabbasov (5 dan) and his deputy Sensei Stoyan Dimov.
---
Briefly today, the first training day: in the morning we took PCR tests, sponsored by the organizers of the camp. "Because we care for safety and health of the people", shared with us Shihan Ivo Kamenov. Shihan also took active part in two training sessions: KWU International Professional League and Kyokushin – both focused more on full-contact techniques, pair work and interesting combinations. Shihan Kamenov shared experience and knowledge, paid attention to all three groups, and was happy to communicate with everyone. In general, our entire camp and training will be focused on full contact.
Our guests, K1 legends, Semmy Schilt, Peter Aerts also showed some interesting and new things. As the usual training session past very quickly.
Kyokushin and kickboxing star Sensei Jan Soukup join us and from the plane, directly came to training with us. He and Sensei Zahari Damyanov showed interesting feints, which the young fighters appreciated. It was an honor for the group of fighters to touch the skills of champions of the rank of both Kyokushin legends.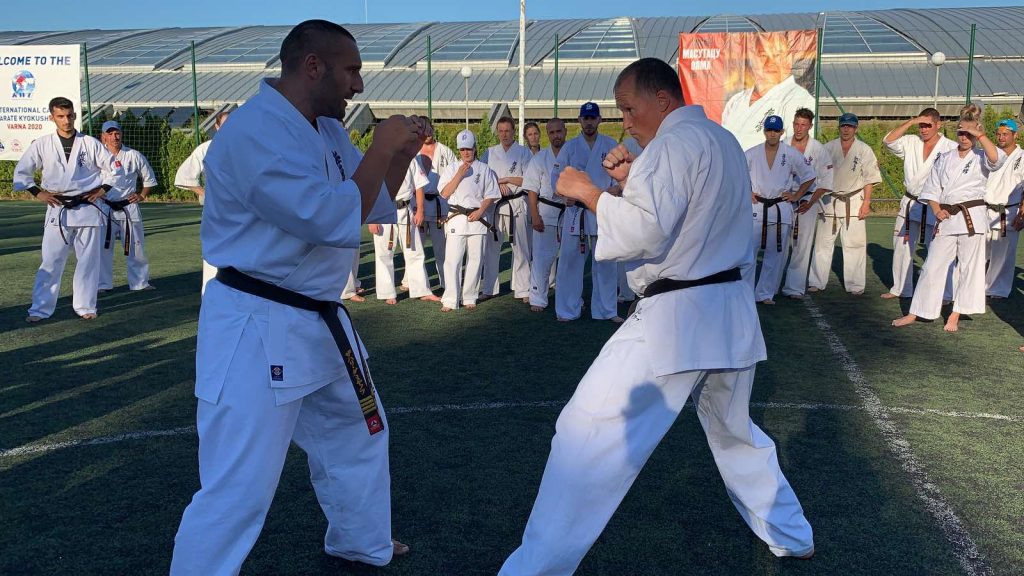 As we already shared on our website and social networks, the KWU Youth World Cup 2020 was updated and on Tuesday we will be witnesses on something interesting – all U21 males and females will participate in openweight category tournament. The prize fund for both divisions is 12 500 euros – we are sure that 20 male and 11 female will give their best to win. We're going to be live during the event.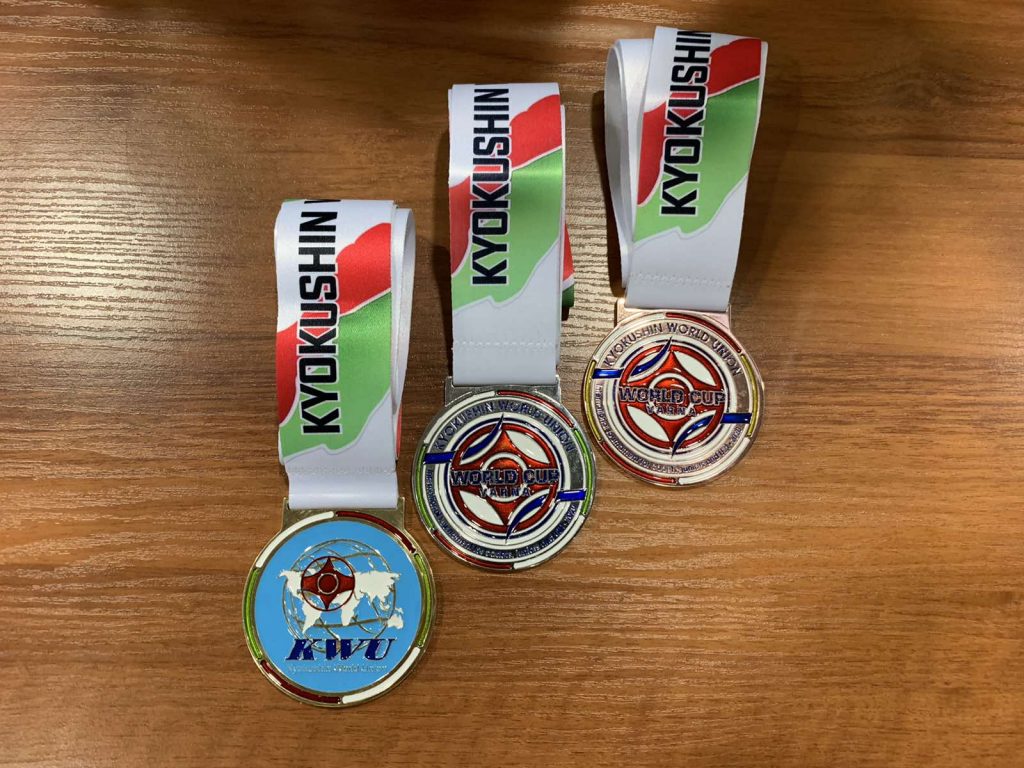 Judicial seminar held productively and was led by deputy supreme judge of the KWU Youth World Cup, Sensei Stoyan Dimov. Judges took a test and the results are very good.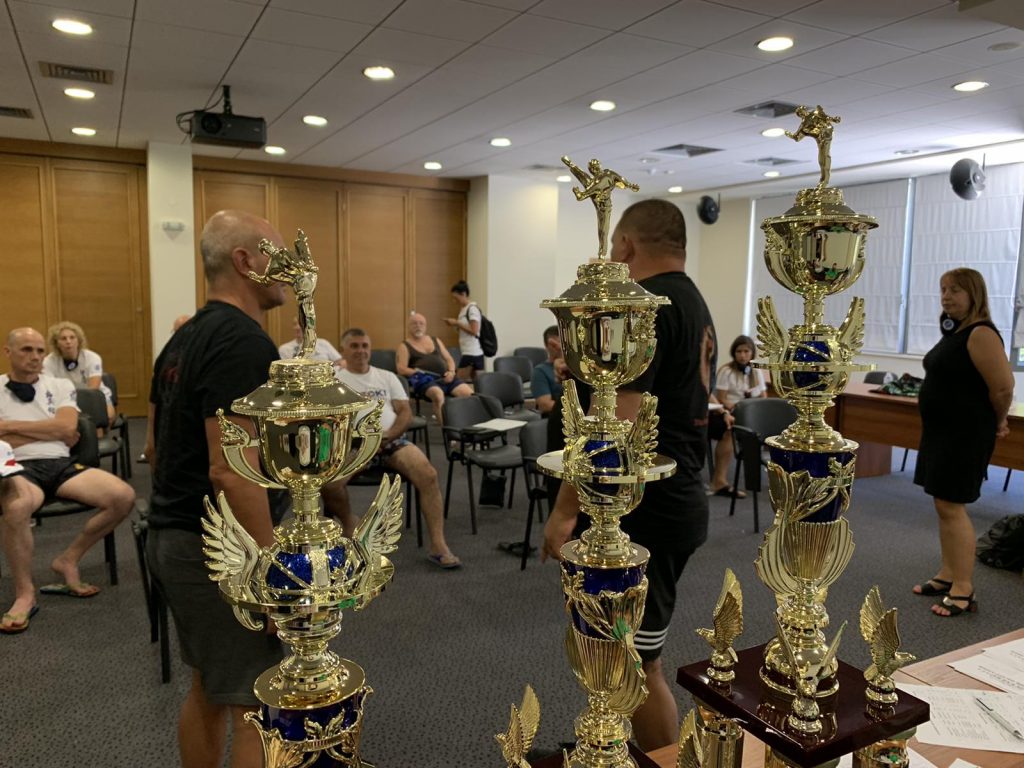 This is the most anticipated summer camp, not only because of the place, training sessions, the difficult times we are going through but because of the people.
On this first training day, a total of 5 trainings took place – we already mentioned Senshi and Kyokushin full contact sessions, but we had the traditional Iaido training and a Wrestling – 90-minute training session with Sensei Stoyan Dimov.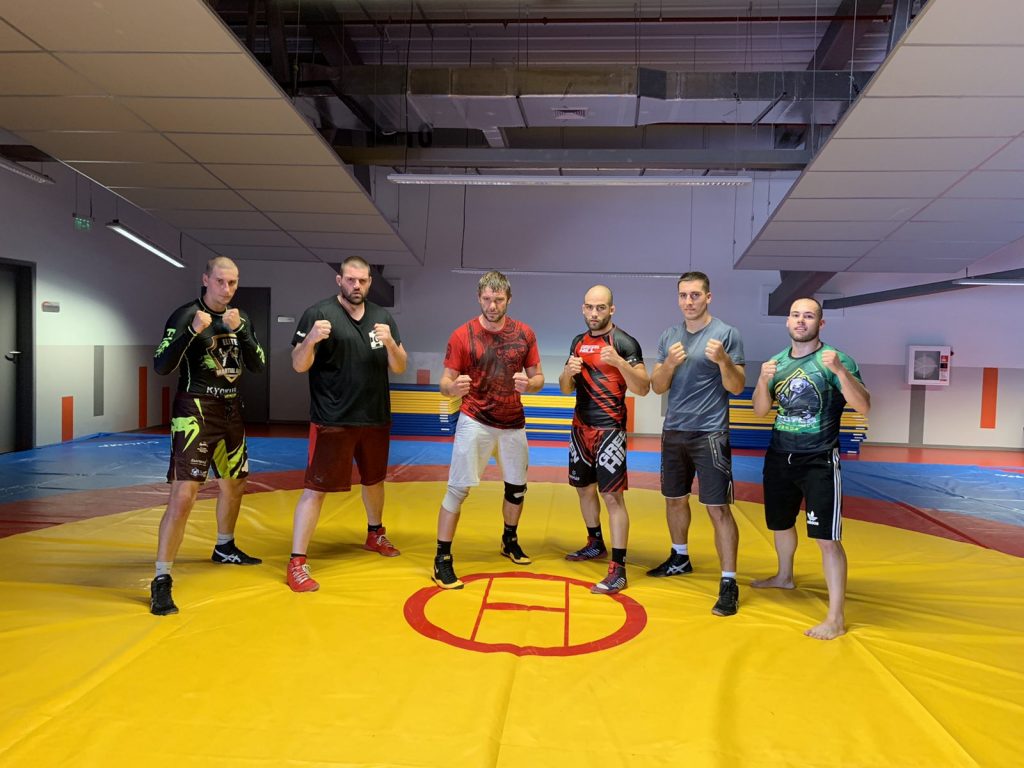 This first day was emotional, we look forward to the next hot training days. Osu!
---
Follow us on social networks:
Facebook & Instagram Hashtags: #kwucamp #kwunion
Facebook: https://www.facebook.com/KWUnion
Twitter: https://twitter.com/KWUnion
Instagram: https://www.instagram.com/kwunion
VKontakte: https://vk.com/kwunion