Kancho Hatsuo Royama: "In a very short time in the Bulgarian Kyokushin-kan will be the first Shihans"
The President of Kyokushin-kan International Karate Organization, Kancho Hatsuo Royama visited Bulgaria for The 10th Anniversary International summer camp of the Bulgarian Karate Kyokushin Federation, camp was under the direction of KWU and was held at Sports center Kamchia, near by Varna on July 3-10, 2016.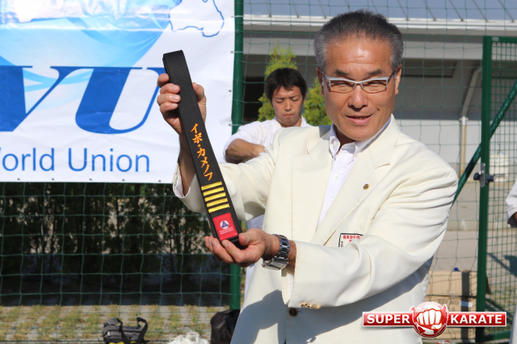 On the final day of the KWU Summer School in Kamchia (Bulgaria) happens a significant event for the Bulgarian karate Kyokushin Federation. During the last general training camp on the large open area of the sports complex, Kancho Hatsuo Royama congratulated the organizers of the camp and handed Marin Mitev and Ivo Kamenov with new degrees – 5th Dan.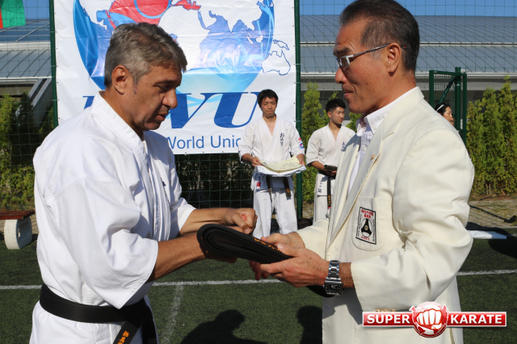 Kancho said that in Kyokushin-kan has honorable black belt and combat black belt. But these 2 black belts for their contribution and hard work for World Kyokushin and many years of dedication have earned very real combat belts.Thus, in the Bulgarian Kyokushin-kan now are three 5th Dans. All three – Asen Asenov, Ivo Kamenov and Marin Mitev – are from the first generation of Bulgarian kyokushinkai karatekas. The international organization Kyokushin-kan fifth dan – Shihan not became automatically. Shihan is a special title that must be earned.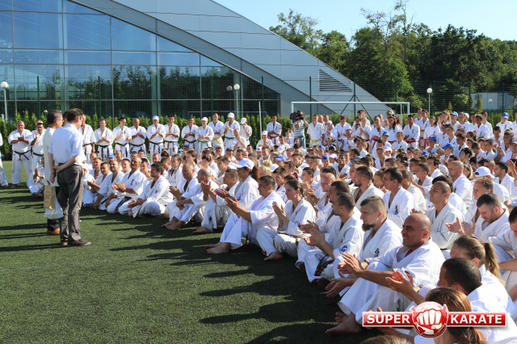 Kancho Hatsuo Royama said in front of all participants that Marin Mitev and Ivo Kamenov are real Shihans and at the next meeting of the international committee of the organization he will raise the issue of assigning them with the title. And he is sure that the committee will support it.