Kūdō (空道, Kūdō) is a Japanese hybrid martial art. It is a full-contact combat sport that aims to achieve both safety and practicality, a style of mixed martial arts practiced with headgear and gloves. It features stand-up striking, with throwing and grappling techniques being also allowed in the competition, including restraint, locks, and chokeholds.
Kudo is a martial art created by Azuma Takashi in 1981. Azuma was a black belt in Kyokushin Karate and Judo and saw the potential for a hybrid martial art that was not limited by styles. He decided to merge the two martial arts he knew and made Daido Juku, where striking and grappling were allowed. Slowly, various other martial arts like Muay Thai, Boxing, Jiu-Jitsu, and various other martial arts were incorporated and fine-tuned to work well in the style. The martial art was renamed as Kudo in 2001 and is accepted as a Budo sport in Japan.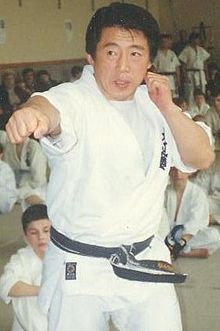 Azuma Takashi was born in the city of Kesennuma, Miyagi Prefecture. After graduating from high school, he served in the Japanese Special Forces and began to train Kyokushin. In 1972 he opened a Kyokushin karate section at Waseda University. Azuma himself was one of the best Kyokushin competitors and topped the first two World Kyokushinkai Championships, second in the sixth All Japan Tournament and champion in the ninth All Japan Tournament. Azuma was a 3rd dan Judo, 8th dan Kyokushinkai and 9th dan Kudo. Azuma is the only person in the world to break 12 blocks of ice, 15 centimeters each, with his hand. This is also a Guinness World Record. Azuma travels, competes, and gains experience and in 1981, he created Daido Juku. Azuma himself, as a true Japanese, did not leave Japan for 12 years and it was not until 1994 that he began to spread and develop the style. Azuma Takashi passed away on 3 April 2021 at the age of 71.