In view of the complicated epidemiological crisis related to COVID-19 in Bulgaria, the increased rate of COVID-19 infections and the measures introduced on Thursday by the Bulgarian Parliament by order of the Ministry of Health, in the interest of safeguarding the health and security of the athletes, the first Open European Championship under the KWU SENSHI rules and the professional SENSHI Fight Gala are postponed to next year. The decision was made by the organizers of the KWU International Professional League with Shihan Ivo Kamenov as Chairman.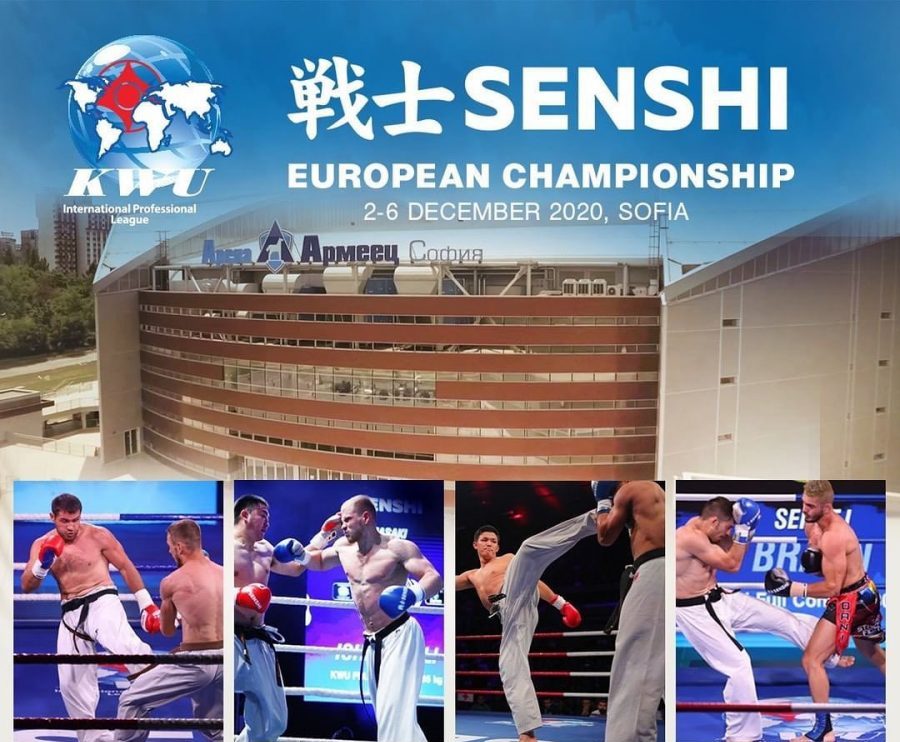 ---
The first of its kind Open European Championship was supposed to take place at the start of December – 4th and 5th December, in the Arena Armeec Sofia sports hall, and the interest has been huge and from across the globe. In less than a month, 113 fighters from a total of 26 countries requested participation, and the finals were set to be held as part of the seventh edition of SENSHI Professional Fight Gala, along with four additional fights. Due to the complicated COVID-19 health situation in Bulgaria and Europe, and in compliance with the newly adopted regulations promulgated by the Bulgarian Parliament, which became effective on 12 November, all collective and individual sports events are to be performed without the attendance of an audience. Given the scale of the first Open European KWU SENSHI Championship and the immense interest, it will instead be held in 2021 when the epidemiological situation in the country and in Europe improves.
The European Championship will be open, and in order to comply with the legitimacy requirements, only athletes competing for European countries will be permitted to compete. They will be divided into six categories: -70, -75, -80, -85, -90, +90. Each category will include eight fighters. Candidates not meeting the requirements will not be allowed to compete.
Here is the full list of competitors and countries who have applied for the first Open European Championship under KWU SENSHI rules:
Mubariz Aghamaliyev (Azerbaijan)
Siarhei Chrnetski (Belarus)
Alexey Vavrenyuk (Belarus)
Dzmitry Filipau (Belarus)
Maxim Spodarenko (Belarus)
Ruslan Nasibulin (Belarus)
Ihar Petrovich (Belarus)
Yauhen Miahkou (Belarus)
Baris Mirashnichenka (Belarus)
Alexander Halkin (Belarus)
Sikorsky Dzmitry (Belarus)
Fedor Koltun (Belarus)
David Atsman (Belarus)
Vinicius Santana de Oliveira (Brazil)
Evandro Barbosa (Brazil)
Humberto Isaías Mora (Brazil)
Renan Hirata Maza (Brazil)
Victor Xavier (Brazil)
Vinicius Bereta (Brazil)
Marcos Zinhani (Brazil)
Gabriel Pereira Cavalari (Brazil)
Haime Morais (Brazil)
Petar Stoykov (Bulgaria)
Stoyan Ilchev (Bulgaria)
Todor Hranchev (Bulgaria)
Aleksander Evstatiev (Bulgaria)
Georgi Doychev (Bulgaria)
Nikolay Yorgov (Bulgaria)
Atanas Lichev (Bulgaria)
Kristiyan Doychev (Bulgaria)
Genady Stoev (Bulgaria)
Kostadin Petrov Kurdjaliyski (Bulgaria)
Kamen Georgiev (Bulgaria)
Tony Markulev (Bulgaria)
Vasil Dimitrov (Bulgaria)
Daniel Galabarov (Bulgaria)
Vincent Michaud (Canada)
Ndombol Minlo Manuel Dorian (Cameroon)
Igor Okhman (Czech Republic)
Daryl Irana (France)
Jacquot Jean-Paul (France)
Filali Amirouche (France)
Sergej Braun (Germany)
Mustafa Mohammed Waheeb (Iraq)
Mohammed Ammar Adnan (Iraq)
Mohammed Hameed Murtadha Salman (Iraq)
Ishaq Mohammed Ali Abed (Iraq)
Bahaa Nadhim Ali (Iraq)
Masoud Minaei (Iran)
Mohammad Asadi Amin (Iran)
Masoud Moghimiyan (Iran)
Takaloo (Iran)
Faramarz Shahnasiri (Iran)
Arman Baziari (Iran)
Seyed Meysam Hoseini (Iran)
Sajjad Mohajeri (Iran)
Pasquale "Pako" Mangini (Italy)
Juri Villani (Italy)
Kuandyk Mukayev (Kazakhstan)
Daniyar Alimusinov (Kazakhstan)
Alisher Karmenov (Kazakhstan)
Nurlykhan Sadvokassov (Kazakhstan)
Juldassov Nurlan (Kazakhstan)
Temirlan Nagashybayev (Kazakhstan)
Khalid El Bakouri (Morocco/Netherlands)
Anwar Dira (Morocco/Netherlands)
Boubaker El Bakouri (Morocco/Netherlands)
Constantin "LIONCRUSHER" Rusu (Moldova)
Ion Brițchi (Moldova)
Jeffrey van Duijn (Netherlands)
Floris Hoek (Netherlands)
Maciej Tercjak ACIEJ (Poland)
Leandro Rodrigues Nicácio Gomes (Portugal)
António Carlos Cosme Da Graça Boturão Das Neves (Portugal)
Luis Filipe Riberio Ramalho Da Silva (Portugal)
Serghei Zanosiev (Romania)
Alin Cimpan (Romania)
Al Mokdad Hassan (Romania)
Eduard-Constantin Motriuc (Romania)
Soare Alexandru (Romania)
Pavel Cherepanov (Russia)
Gholi-Bdjon Muhamadiev (Russia)
Danielyan Ayk Avetikovich (Russia)
Omar Abdulgamidovich Magomedov (Russia)
Andrei Kotov (Russia)
Makhamaev Magomed Ibrahimovich (Russia)
Alexander «Skvortsman» Skvortsov (Russia)
Alexander Anashkin (Russia)
Artem Pashporin (Russia)
Eduard Shigin (Russia)
Kirill Grigorev (Russia)
Kiril Ribin (Russia)
Suliman Kosumov (Russia)
Evgenii Vorontsov (Russia)
Ilya Sokolov (Russia)
Rizvan Simbagaev (Russia)
Magomed Magomedov (Russia)
Timur Gastashev (Russia)
Milos Jaksic (Serbia)
Daniel Redondo Cardoso (Spain)
Suhrob Nazarov (Tajikistan)
Eraj Jaborov (Tajikistan)
Fozildzhon Ralizoda (Tajikistan)
Saidahmad Olimov (Tajikistan)
Jemaa Khaled (Tunisia)
Mykhailo Hrynchuk (Ukraine)
Vital Hurkou (Ukraine)
Anton Kalitventsev (Ukraine)
Yauhen Lasheuski (Ukraine)
Vladyslav Fostenko (Ukraine)
Danylo Voievodkin (Ukraine)
Maxim Levchenko (Ukraine)
Sanjar Kalandarov (Uzbekistan)
Additional matches included in the professional SENSHI Fight Gala
71,8 kg WAKO PRO – Slobodan Mijajlovic (Serbia) vs Atanas Bozhilov (Bulgaria)
75 kg WAKO PRO – Constantin Rusu (Moldova) vs Bogdan Shumarov (Bulgaria)
70 kg Muai Thay – Dmitro Hlevka (Portugal) vs Artem Pashporin (Russia)
81,4 kg К-1 – Sergej Braun (Germany) vs Aleksandr Menkovich (Serbia)
55 kg К-1 – Montana Aerts (Netherlands)
The new dates for the Championship and the SENSHI Fight Gala will be set depending on the improvement of the epidemiological situation in Europe and they are expected to be announced.