Martial arts fans will have the opportunity to watch an interesting heavyweight fight at the upcoming 13th edition of SENSHI international professional fight nights.
Estonian Uku Jurjendal will compete with German Nenad Cosic, who will make his debut at the SENSHI ring. The gala evening is scheduled for September 10 and will be held on the beach in the resort complex St. Constantine and Elena. The starting time of the big clash of the titans will be given at 19:00.
The fight will be held under the rules of KWU Full Contact in the cat. +95 kg.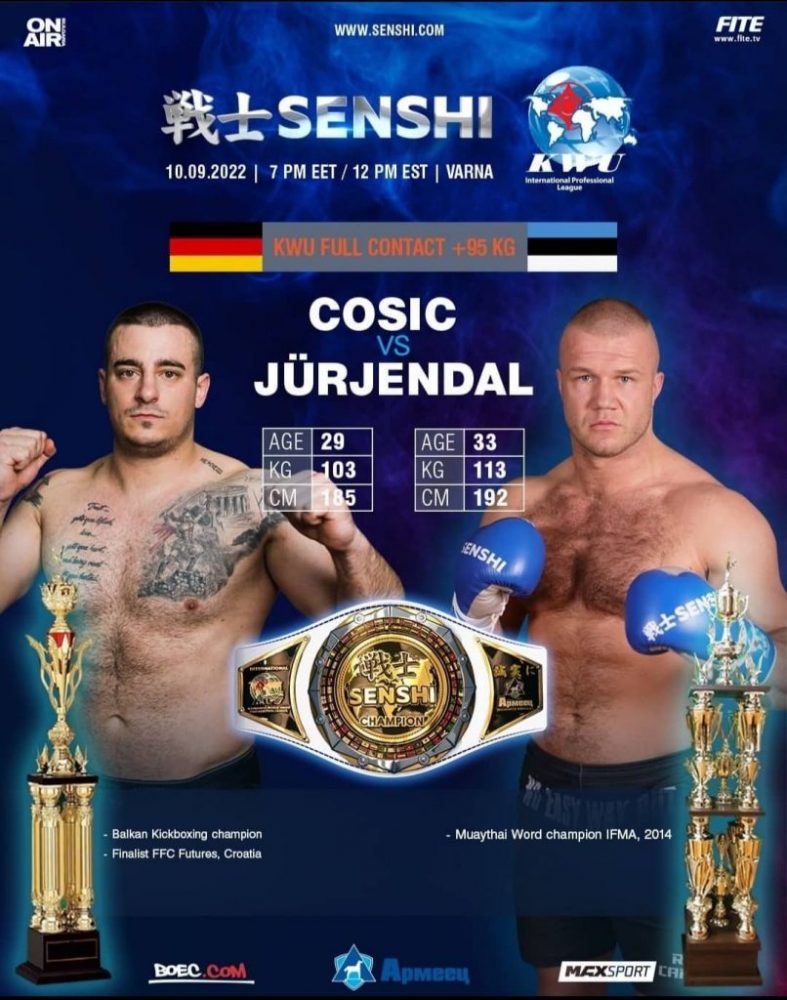 The 33-year-old Estonian will be looking for a second straight SENSHI win. He took part in the last two gala evenings – a loss to Ahmed Krnjic at SENSHI 11 and a win against Dutchman Bas Vorstenbosch at SENSHI 12. Uku is the 2014 IFMA Muay Thai World Champion.
His 29-year-old opponent is a Balkan kickboxing champion and finalist in the FFC Futures tournament in Croatia.
---
The fight night will be broadcast live on Bulgaria ON AIR and Max Sport 2 for Bulgaria, as well as in real-time worldwide on American television FITE, Senshi.com, kwunion.com Boec.bg, Boec.com and Kyokushin Karate News.
戦士 SENSHI is organized in cooperation with the Professional League of the Kyokushin World Union (KWU International Professional League), as well as with the special support of Armeec Insurance Company, MAX Sport, Bulgaria Air, and M Car Group – BMW dealer.
戦士 SENSHI's media partners are Boec.BG and Boec.COM, the national television Bulgaria ON AIR, the American online martial arts television FITE, Gol.bg, Topsport.bg, kwunion.com the information portal Kyokushin Karate News, Fighto.News and Novinata.bg.