Takumi Sanekata from Japan will fight against Ivan Naccari from Italy in the international gala fight night SENSHI on December 3rd at the Palace of Culture and Sports in Varna.
The two will fight under the rules of KWU Full Contact in the category of up to 70 kg.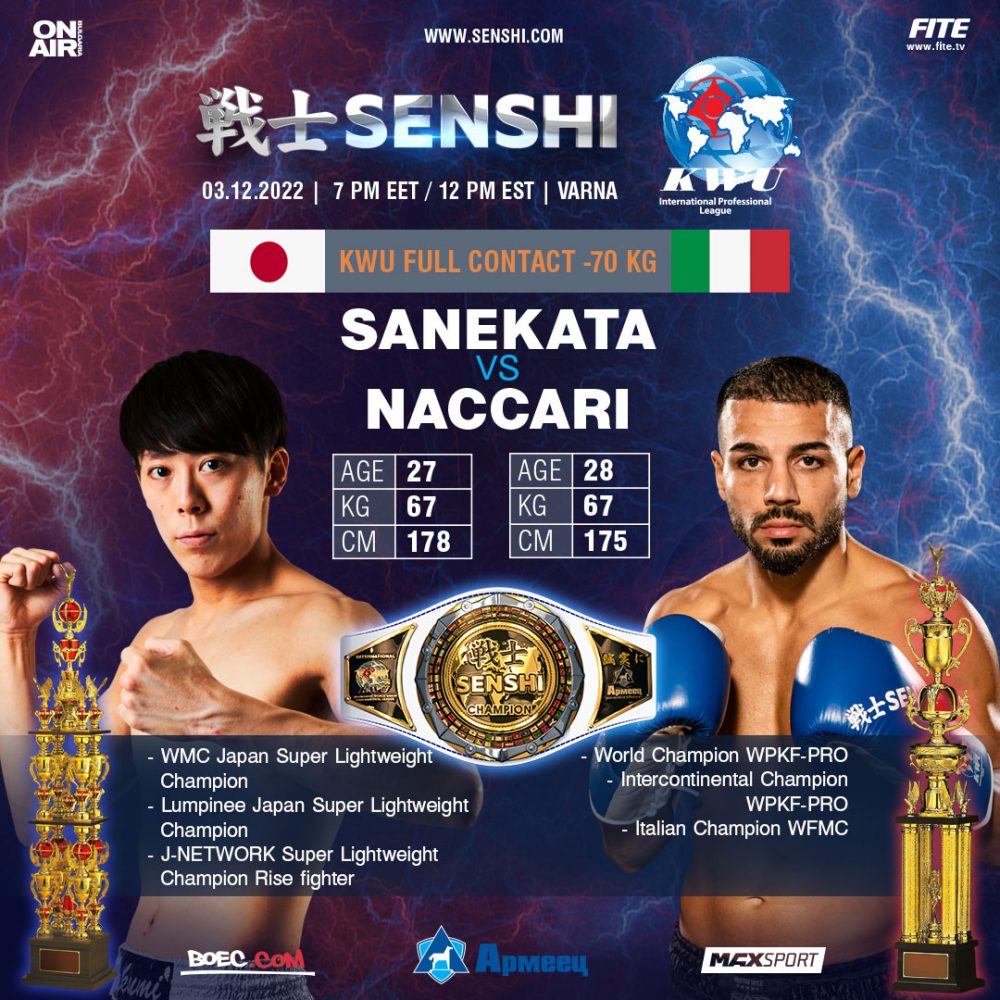 Takumi Sanekata is 27 years old and from Japan. He is WMC Japan Super Lightweight Champion, J-NETWORK Super Lightweight Champion, Lumpinee Japan Super Lightweight, and Super Welterweight Champion. This will be his SENSHI debut.
On December 3rd, Ivan Naccari will step into the SENSHI ring for the second time. He is 28 years old and from Italy. Naccari is WPKF-PRO World champion, WPKF-PRO Intercontinental champion and Italian WFMC champion.
Naccari participated in the previous 13th edition of SENSHI, where he achieved one of the most impressive turnarounds in the entire history of SENSHI and defeated Aissam Chadid from Spain after the fourth extra round.
Tickets for SENSHI 14 are on sale and can be purchased from the Eventim network, as well as from Grabo.bg website.
The fight night will be broadcast live on Bulgaria ON AIR and Max Sport 1 for Bulgaria, as well as in real time worldwide on American television FITE, Senshi.com, Boec.bg, Boec.com, Kwunion.com and Kyokushin Karate News.
SENSHI is organized in cooperation with the Professional League of the Kyokushin World Union (KWU International Professional League), as well as with the special support of Armeec Insurance Company, MAX Sport, Bulgaria Air, M Car Group – BMW dealer, Rolls-Royce Motor Cars Service and St. St. Constantine and Helena Holding.
SENSHI's media partners are Boec.BG and Boec.COM, the national television Bulgaria ON AIR, the American online martial arts television FITE, Gol.bg, Topsport.bg, Kwunion.com, the information portal Kyokushin Karate News, Fighto.News and Novinata.bg.