SENSHI vet Andrey Chekhonin will be looking to get back to his winning days at the upcoming SENSHI 10. The fight night is scheduled to take place this Saturday night in Varna, Bulgaria.
The 31-year-old Chekhonin is a 2020 WAKO PRO World Champion, 2015 WAKO low kick champion and winner in the 2015 and 2019 "Battle of Champions: School vs. school" tournaments. The Russian suffered his first ever loss at SENSHI's last edition.
He'll be facing Spain's Ruben Garcia. The 28-year-old will be making his SENSHI debut, as he is a national kickboxing, Muay thai and Sanda champion of Spain.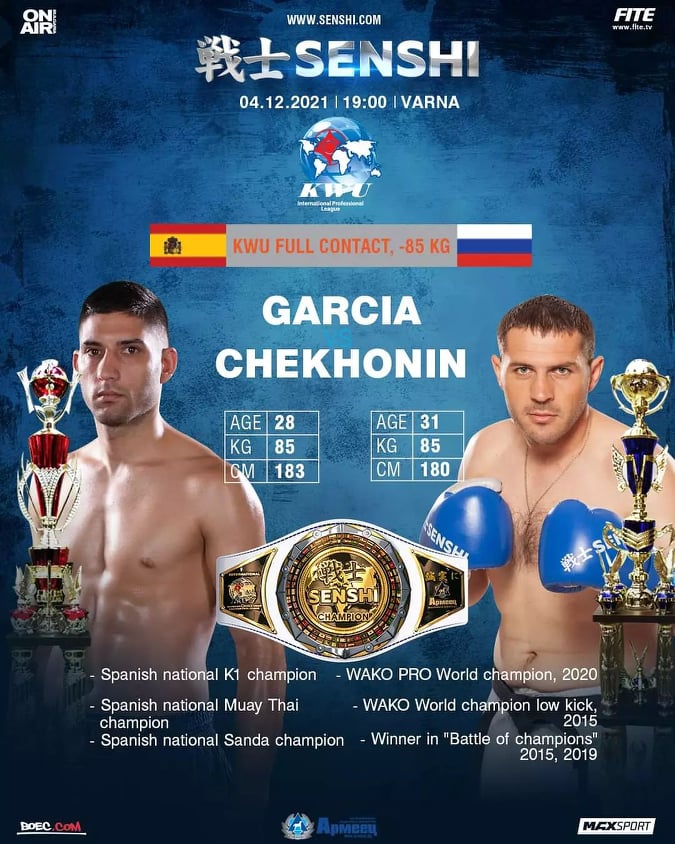 Find out more about both fighters HERE.
---
Follow our website and the social media profiles of @kwunion & @senshi.gala

#senshi10 #kwusenshi
---
SENSHI 10 fight nigh is organized with the KWU International Professional League, Armeec Insurance Group, Max Sport, Bulgaria Air, M-Car Group cooperation.
The media partners of the event are Boec.BG and Boec.COM, Bulgarian national TV Bulgaria ON AIR, US online platform for combat sports FITE, Gol.bg, Topsport.bg, Kwunion.com, Russian Union Of Martial Arts, KyokushinКarate.News and Fighto.News.