One of the strongest competitors from the team of K-1 legend Peter Aerts – Thomas Doeve will once again enter the SENSHI ring during the new 14th edition on December 3rd at the Palace of Culture and Sports, Varna. Tickets for the attractive gala fight night are on sale and can be purchased from the Eventim network, as well as from Grabo.bg website.
The 28-year-old from the Netherlands will look for his victory against French fighter Frangis Goma, who will make his debut in the organization. Originally, Goma was supposed to face Alexander Petrov in the heated arena of SENSHI, but the Bulgarian fighter will not be able to fight in the ring because of injury.
The Goma and Doeve will fight under the rules of KWU Full Contact in the cat. up to 85 kg.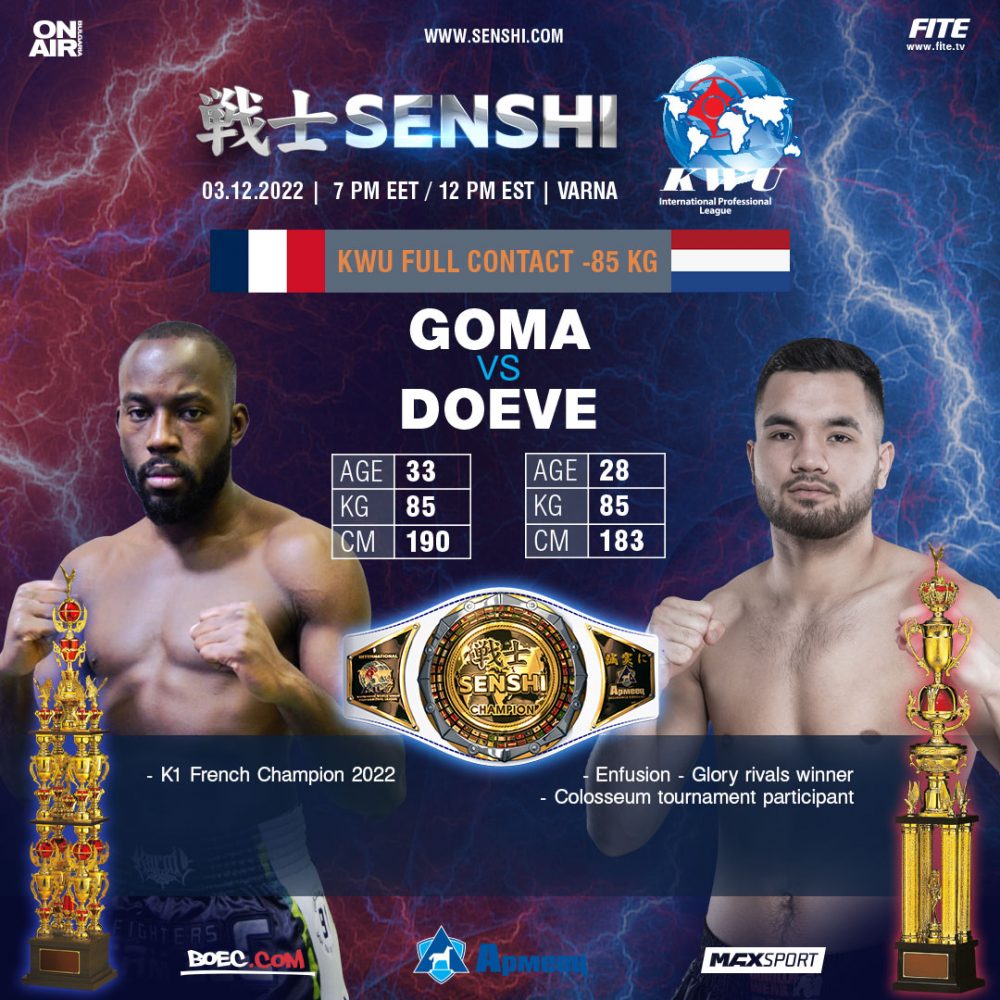 Frangis Goma is 33 years old and from France. He is K1 French Champion in 2022. On December 3rd, he will step into the SENSHI ring for the first time. His opponent – Thomas Doeve, is the winner of Enfusion – Glory rivals and a participant in the Colosseum tournament.
Tickets for SENSHI 14 are on sale and can be purchased from the Eventim network and from Grabo.bg website.
Follow the official SENSHI channels on Facebook, Instagram, and YouTube, as well as the website of the chain Senshi.com, for more information.
The fight night will be broadcast live on Bulgaria ON AIR and Max Sport 1 for Bulgaria, as well as in real-time worldwide on American television FITE, Senshi.com, Boec.bg, Boec.com, Kwunion.com, and Kyokushin Karate News.
SENSHI is organized in cooperation with the Professional League of the Kyokushin World Union (KWU International Professional League), as well as with the special support of Armeec Insurance Company, MAX Sport, Bulgaria Air, M Car Group – BMW dealer, Rolls-Royce Motor Cars Service, and St. St. Constantine and Helena Holding.
SENSHI's media partners are Boec.BG and Boec.COM, the national television Bulgaria ON AIR, the American online martial arts television FITE, Gol.bg, Topsport.bg, Kwunion.com, the information portal Kyokushin Karate News, Fighto.News and Novinata.bg.