A fight between two debutants from Germany and France will take place at the upcoming 13th edition of SENSHI.
The German Lucas Achterberg will compete against the French Anthony Leroy on September 10 on the beach of the resort complex of St. Constantine and Elena.
The bout will be held under the rules of KWU Full Contact in the cat. up to 95 kg.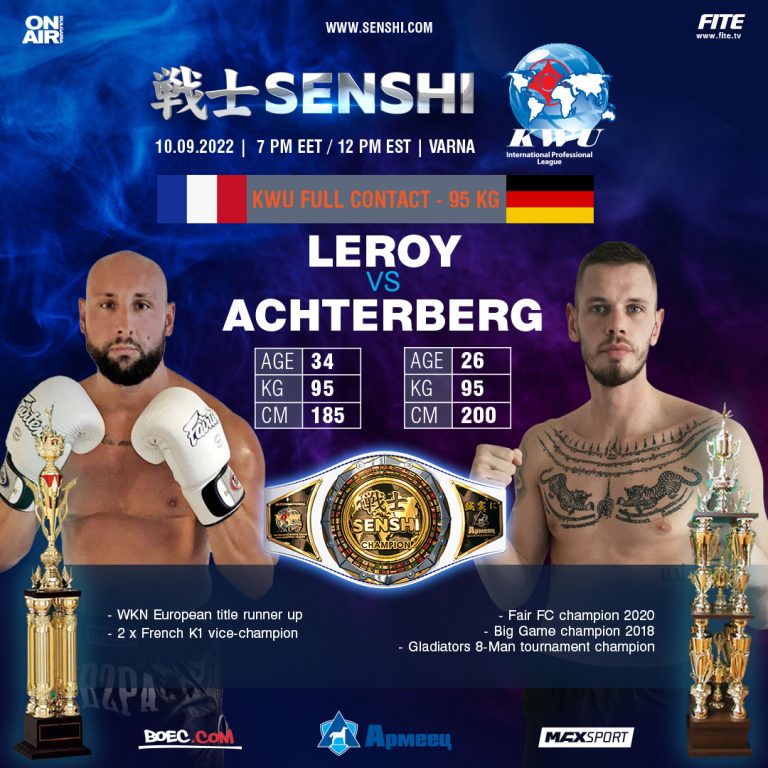 Anthony Leroy, 34, has a silver medal from the WKN European Championships and is a two-time silver medalist at the K-1 National Championships.
---
The 26-year-old Achterberg is the champion of the "Fair FC" (2020), "Big Game" (2018) circuits and won the "Gladiator" tournament. The German is the sparring partner of UFC middleweight title contender Alex Pereira.
The fight night will be broadcast live on Bulgaria ON AIR and Max Sport 2 for Bulgaria, as well as in real-time worldwide on American television FITE, Senshi.com, kwunion.com Boec.bg, Boec.com and Kyokushin Karate News.
戦士 SENSHI is organized in cooperation with the Professional League of the Kyokushin World Union (KWU International Professional League), as well as with the special support of Armeec Insurance Company, MAX Sport, Bulgaria Air, and M Car Group – BMW dealer.
戦士 SENSHI's media partners are Boec.BG and Boec.COM, the national television Bulgaria ON AIR, the American online martial arts television FITE, Gol.bg, Topsport.bg, kwunion.com the information portal Kyokushin Karate News, Fighto.News and Novinata.bg.