All of the fighters who will participate in the ninth edition of the elite fight night SENSHI went through the official weigh-in earlier today. Each and every one of them was on point!
Now everything is set for SENSHI 9 which will take place on July 10 in the Amphitheater "Kamchia" starting at 8:00 PM.
Here are the full results:
Carlos Garcia (Spain) 69.7 kg. vs. Dragomir Petrov (Bulgaria) 69.3 kg.
Pavel Shelest (Belarus) 78.700 kg. vs. Eduard Aleksanyan (Bulgaria) 80.00 kg.
Andrej Kedveš (Croatia) 72.800 kg. vs. Atanas Bozhilov (Bulgaria) 72.500 kg.
Oleg Tsvik (Ukraine) 69.700 kg. vs. Artem Pashporin (Russia) 69.500 kg.
Francesko Xhaja (Albania) 107.kg. vs. Ahmed Krnjic (Bosna and Herzegovina) 112.900 kg
Samuel Dbili (France) 80.00 kg. vs. Sergej Braun (Germany) 79.700 kg.
Florin Lambagiu (Romania) 84.900 kg. vs Andrei Chekhonin (Russia) 84.400 kg.
Before the main matches of the night the finals of the 1st European Open KWU International Professional League championships will be held in the divisions -70, -75, -80, -85, -90, +90 kg. Here you can see who are the finalists.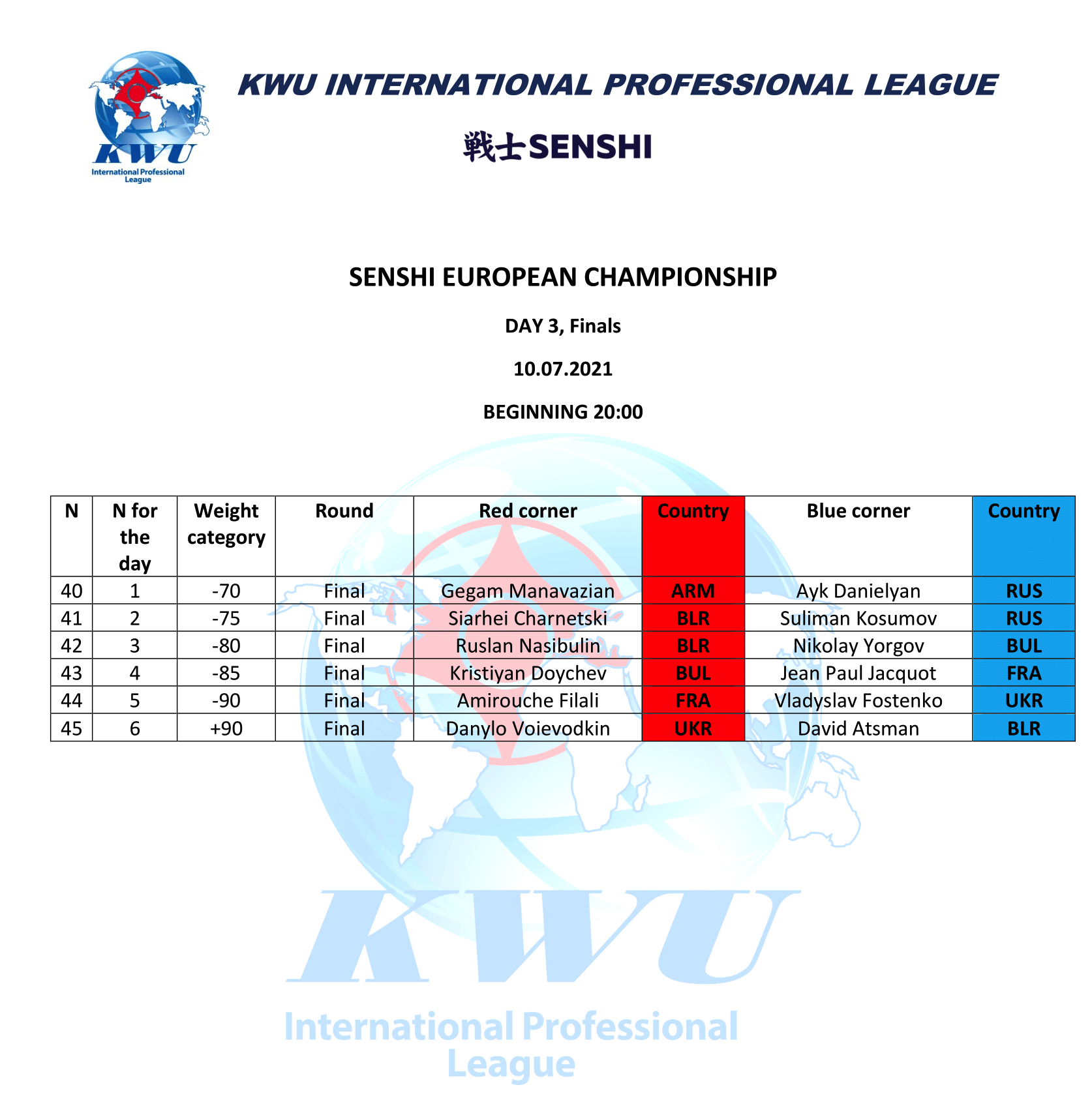 During the weigh-ins, the fighters and media staff were greeted by the legendary K-1 fighters Peter Aerts, Semmy Schilt, Ernesto Hoost, and the General Secretary of the KWU Shihan Aleksandr Pichkunov.
The 1st European Open SENSHI championship and SENSHI 9 take place during the 15-th KWU International Summer Kyokushin Camp which starts on the 4th of July and will gather all the Kyokushin elite in one place. The European championship had to be held in 2020, but it was postponed due to the COVID-19 pandemic.
Source: boec.com
Senshi 9 will be broadcasted on Bulgaria ON AIR, MAX Sport, Boec.BG and the US online channels FITE, Boec.COM, Kwunion.com, Kyokushin Karate News, and Fightо.News.
SENSHI 9 is brought to you by KWU International Professional League, Armeec Insurance Group, MAX Sport, Bulgaria Air, M-Car Group – BWM.
Media partners of SENSHI 9 are Boec.BG and Boec.COM, Bulgaria ON AIR, FITE.tv, Gol.bg, Topsport.bg, kwunion.com, Russian Union Of Martial Arts – RSBI.RU, KyokushinКarate.News and Fighto.News
---
Follow us on social networks:

Facebook & Instagram Hashtags: #kwucamp#kwunion

Facebook: https://www.facebook.com/KWUnion
Twitter: https://twitter.com/KWUnion
Instagram:https://www.instagram.com/kwunion
VKontakte: https://vk.com/kwunion