SENSHI 8 not only justified but even surpassed our expectations. The fighters witnessed many quality and exciting bouts, which included everything from the world of martial arts – equal clashes, great combinations, and of course – great knockouts.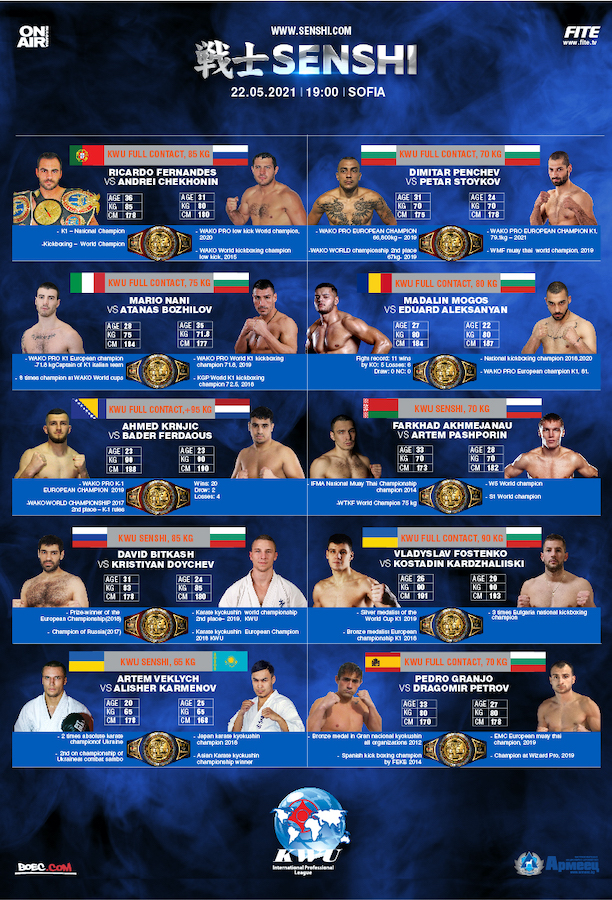 The professional fight night was marked with three special awards.
Dragomir Petrov received the award for "Best Technique" of the evening. He knocked out Pedro Granjo in the second round.
Eduard Aleksanyan took the prize for "Fighting Spirit" after he totally beat the Romanian Madalin Mogos.
Russian legend Andrei Chekhonin left with the award for "Knockout of the Night" after destroyed Ricardo Fernandez in the first round.
Here are all the results:
Alisher Karmenov defeat Artem Veklych by unanimous decision
Dragomir Petrov defeat Pedro Granjo by KO
Vladyslav Fostenko defeat Kostadin Kardzhaliiski by unanimous decision
Kristiyan Doychev defeat David Bitkash by unanimous decision
Artem Pashporin defeat Farhad Akhmejanau by unanimous decision
Ahmed Krnjic defeat Bader Ferdaus by points after an additional round
Eduard Aleksanyan defeat Madalin Mogos by unanimous decision
Atanas Bozhilov defeat Mario Nani by unanimous decision
Andrei Chekhonin defeats Ricardo Fernandes by KO
Dimitar Penchev defeat Petar Stoykov by unanimous decision