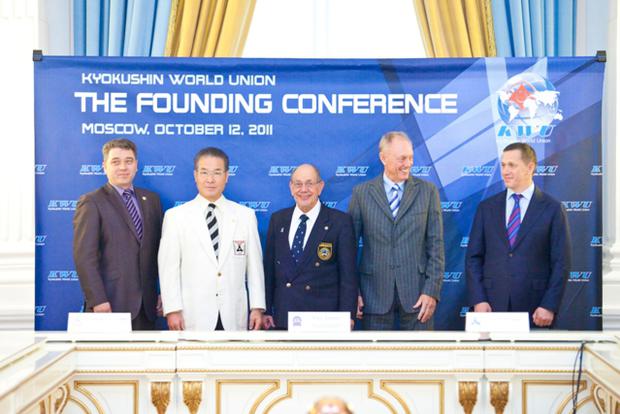 October 12, 2011, in Moscow, at the Reception House of Government of the Russian Federation, the founding Conference of the Kyokushin World Union-KWU was held.
The event was attended by Chairman of the Presidential Council of the Russian Kyokushin Association Yuri Trutnev, the president of Kyokushin- kan International (KI) Hatsuo Royama, vice president of Kyokushinkai-kan International Hiroshige Tsuyoshi, a member of the Board of Directors of the Kyokushin Foundation Sugekava Kenji,president of the International Federation of Karate Steve Arneil, representative of the UK International Federation of Karate David Pickthall, president of Kyokushin World Federation (KWF) Loek Hollander, President of the Bulgarian Federation of Kyokushin karate-do, Ivo Kamenov, as well as representatives of the federations-members of the Russian Kyokushin Association – President of Federation of Kyokushinkai Karate-do of Russia Nikolai Nikolaevich Malikov, President of the Russian National Federation Oyama Kyokushin Karate- do Alexander Arkadievich Ipatov, president of the Federation of Kyokushin- kan karate-do of Russia Mikhail Viktorovich Slipenchuk, president of the Federation of Kyokushinkai of Russia Alexander Ivanovich Tanyushkin. As previously stated, the Declaration on the establishment of the Kyokushin World Union was adopted at the International Conference "Kyokushin in the Modern World" (March 28, 2011., Moscow). World Union sets itself the ambitious goal – to join the ranks of an international sports association "SportAccord" as an independent sport, and thus, become an active participant in the international Olympic movement.

Already today it is clear that this historic step consolidates the main directions of karate Kyokushin, developing in the world today. The Union brings independent international organizations into one international sports federation on principles of equality.
It is expected that already this year the Kyokushin World Union will be registered in the Olympic capital of the world – Lausanne (Switzerland). Conference founding minutes of the Kyokushin World Union – KWU under which the Union begins to operate was signed.