The 10th edition of SENSHI will be a true clash of titans in which combat sports stars from 14 countries will take part. The event will take place on December 4th in Varna, Bulgaria. The fight spectacle will start precisely at 7 pm EET/ 1 pm EST, and broadcast live for free on FITE and online at Senshi.com, Boec.bg, Boec.com, Kwunion.com, and Kyokushinkarate.news.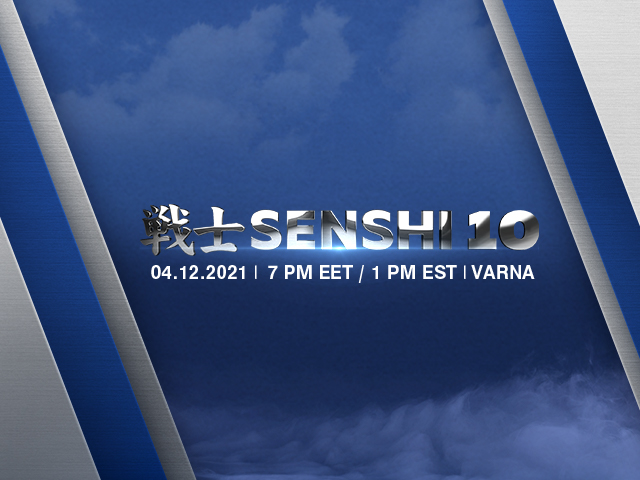 On the 4-th of December, the fans of SENSHI will witness 10 breathtaking fights in KWU Full Contact and KWU SENSHI rules between combat sports champions from Portugal, Romania, Bulgaria, Switzerland, Spain, France, Ukraine, Belarus, Montenegro, Serbia, Slovakia, Bosnia and Herzegovina, Russia, and Germany.
As traditional, VIP guests of the events will be the K-1 living legends Peter Aerts, Semmy Schilt, Ernesto Hoost. They will also be commentating and refereeing at the event. They will also be teaching at a seminar organized by the International Professional League of KWU between the 3-rd and 5-th of December in Varna. For the first time at SENSHI, we will also see the veteran of the K-1 Max organization Albert Kraus. The Dutch fighter is a former competitor in the welterweight and middleweight division and is the first crowned champion of K-1 Max and SUPERKOMBAT. He is also a multiple-time world champion in muay thai in several different organizations and has over 120 professional fights in his career. He has touched gloves with Giorgio Petrosyan, Buakaw, Andy Ristie, Andy Souwer, and others. He will also make a guest appearance at the seminar.
SENSHI 10 is turning out to be a true spectacle of power, action, and unforgettable battles – take a close look at the fight night's official fight card: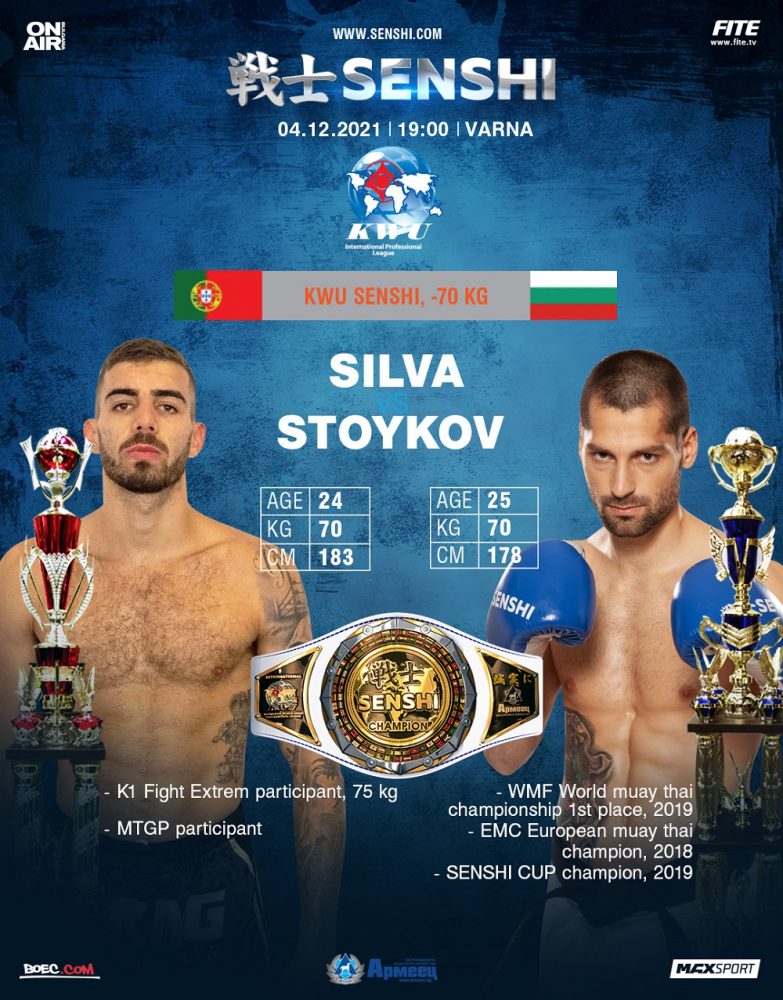 Fight #1
Cat. 70 kg, ruleset: KWU SENSHI
João Pedro Silva, Portugal vs. Petar Stoykov, Bulgaria
João Pedro Silva, Portugal, is 24 years old and his stage name is "The Kalashnikov". The Iberian is representing the "KO Team". He is a muay thai and K-1 specialist who is a professional from 2014.
Petar Stoykov is 25 years old from Bulgaria. He is the 2019 World muay thai champion and EMC Еuropean muay thai champion from 2018. Petar Stoykov is also a SENSHI Cup champion in 2019. He is also a silver medalist from the KWU Youth Kyokushin World championship in 2013.
---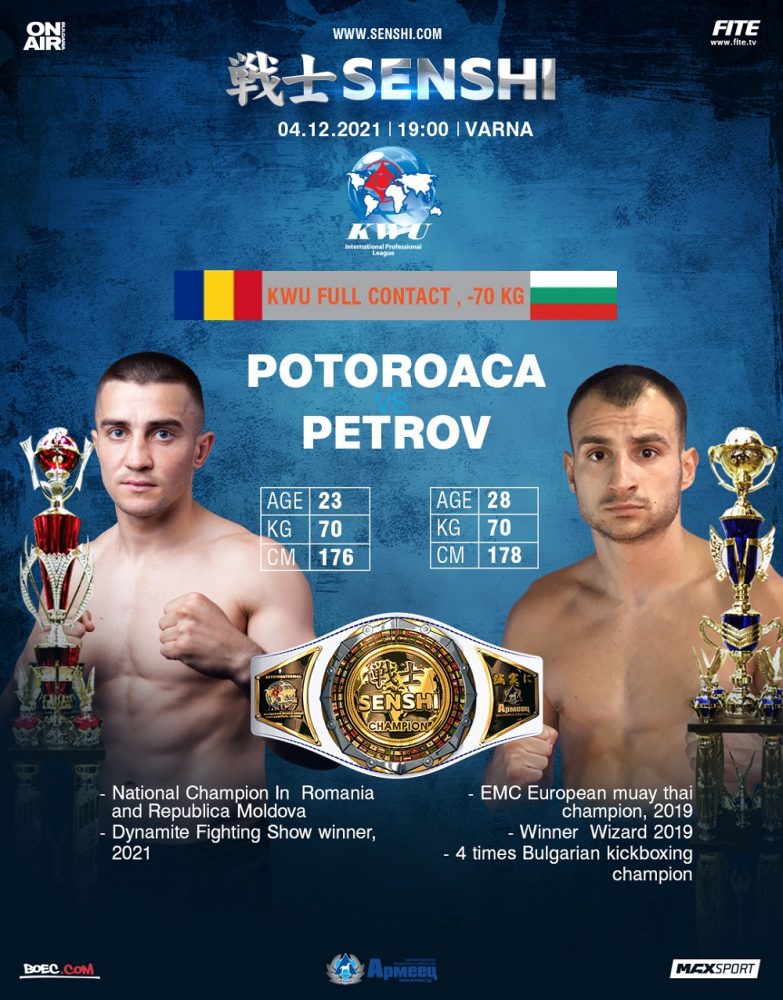 Fight #2
Cat. 70 kg, ruleset: KWU Full Contact
Tudor Potoroaca, Romania, vs. Dragomir Petrov, Bulgaria
Tudor Potoroaca is 23 years old and for his young age, he already has many accomplishments on the battlefield. He is a National Champion in Romania and Republica Moldova and he is a winner of the Dynamite Fighting Show winner in 2021.
Dragomir Petrov is 28 years from Bulgaria. In 2019 he became European muay thai champion. He is also a winner from the Wizard tournament, Max fight, and 2 times SENSHI champion in 2020 and 2021. Bronze medalist from the Balkan kickboxing championship in 2019 and 4-times Bulgarian kickboxing champion.
---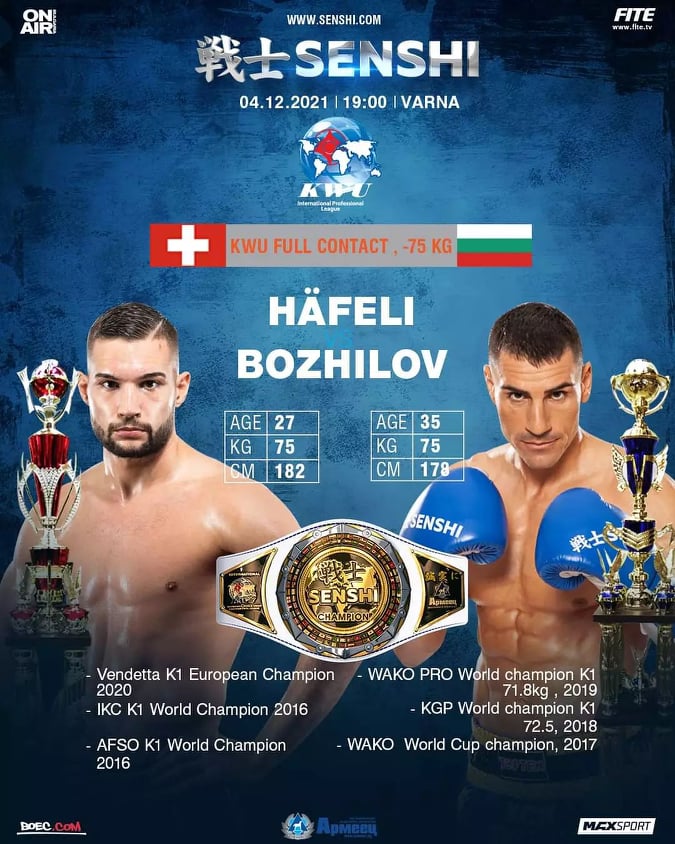 Fight #3
Cat. 75 kg, ruleset: KWU Full Contact
Philipp Häfeli (The Sniper) Switzerland vs. Atanas Bozhilov, Bulgaria
Philipp "The Sniper" Häfeli is 27 years old. He is an AFSO K1 Swiss, European and World Champion. In 2016 he becomes and IKC K1 World Champion and a WFCA K1 European Champion. He is also a WAKO K1 Tournament Winner in Dublin and a Vendetta K1 European Champion in 2020.
Atanas Bozhilov is one of the most renowned Bulgarian kickboxers. He is the holder of the WAKO PRO World champion's belt in K1 for category 71.8kg. He is a KGP K1 World champion K1 and WAKO World cup champion in 2017. He has 7 wins from the arena of SENSHI. He is a silver medalist from the WAKO low kick European and World kickboxing championship
---
Fight #4
Cat. 70 kg, ruleset: KWU SENSHI
Alexis Laugeois, France vs. Artеm Pashporin, Russia
Alexis Laugeois is 23 years from France. His stage name is "Pim Pim" and he is a Tiger fight tournament K1 champion, a silver medalist from the World Muay Thai Championship IFMA in Sweden, and 3-times French muay thai champion. He is Rajadamnern stadium's super fight champion.
Artеm Pashporin is 28 years old from Russia. He is a W5 World champion, GPRO World champion, WKU Intercontinental champion. He also has many accomplishments in Muay thai – Pashporin is the S1 World champion, WMC European champion. Pashporin is also a winner from the prestigious Battles of Champions 10 in Russia.
---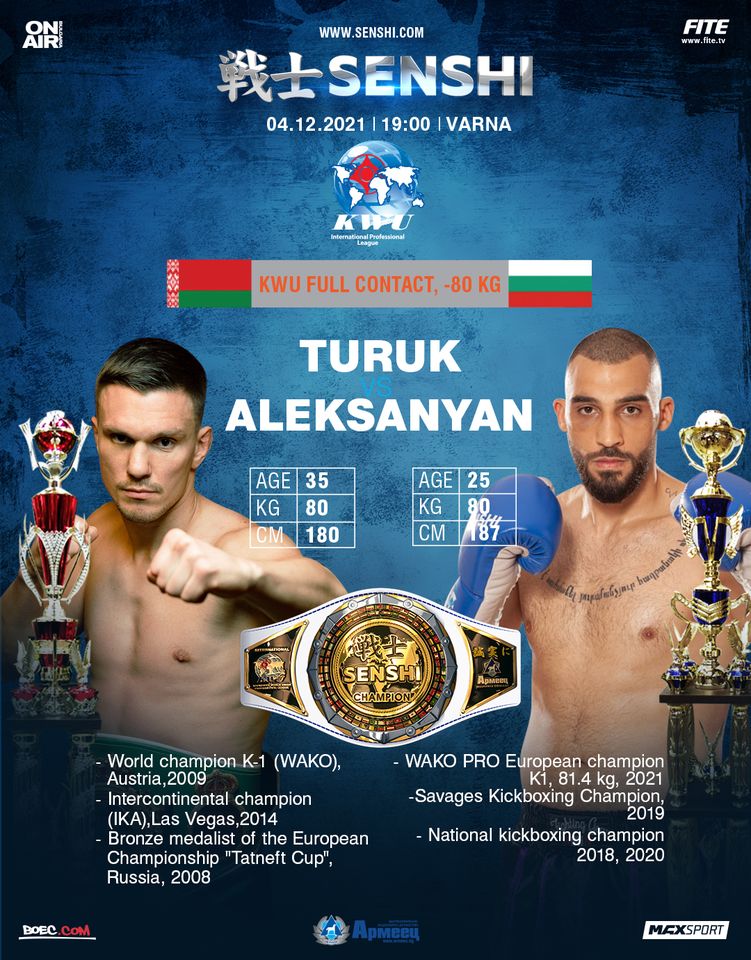 Fight #5
Cat. 80 kg, ruleset: KWU Full Contact
Pavel Turuk, Belarus vs. Eduard Aleksanyan, Bulgaria
Pavel Turuk is 35 years old from Belarus. He is an Intercontinental champion from IKA Las Vegas in 2014 and WAKO World K1 champion. He is a bronze medalist from the European Championship "Tatneft Cup" in Russia and Champion of Belarus in Muay Thai and K1.
Eduard Aleksanyan is 25 years old from Bulgaria. He won his WAKO PRO European champion K1 title in the 81.4 kg category here on the ring of SENSHI in 2021. He is a 2-times National kickboxing champion and Savages Kickboxing Champion. Aleksanyan has a total of 3 wins at SENSHI.
---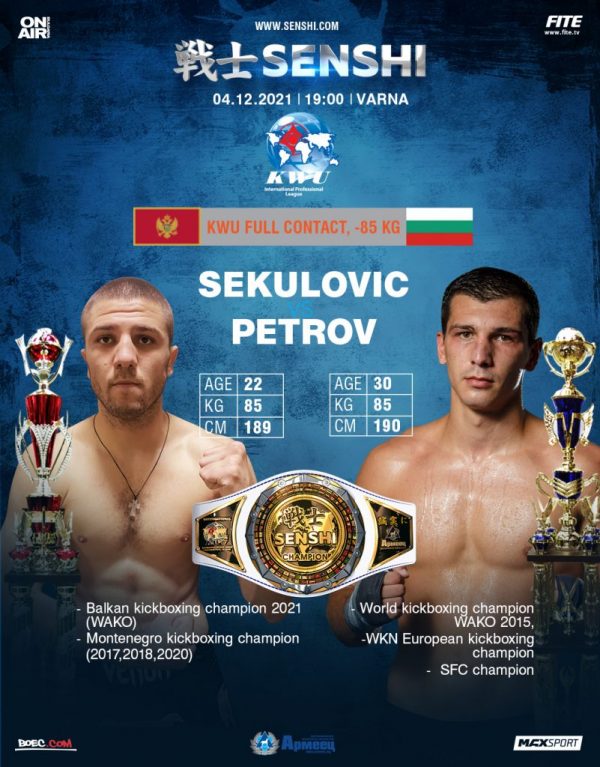 Fight #6
Cat. 85 kg, ruleset: KWU Full Contact
Filip Sekulovic, Montenegro vs. Alexander Petrov, Bulgaria
Filip Sekulovic from Montenegro is 22 years old. He is a WAKO Balkan champion in 2021 and a 3-times National champion.
Alexandar Petrov from Bulgaria is 30 years old. He is a WAKO World kickboxing champion and WKN European kickboxing champion. He also is a Max Fight К1 champion and SFC champion. He is also a holder of 2 WAKO Balkan kickboxing championship belts.
---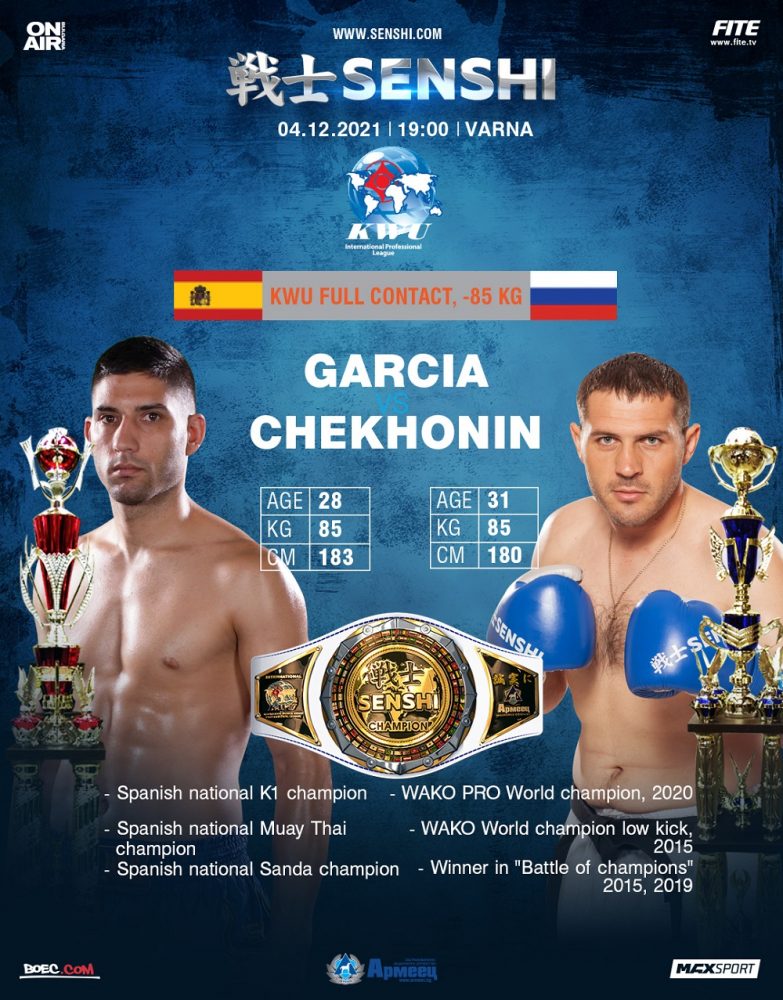 Fight #7
Cat. 85 kg, ruleset: KWU Full Contact
Ruben Garcia, Spain vs. Andrey Chekhonin, Russia
Ruben Garcia, also known as Ruben Lee, is 28 years old from Spain. He is a Spain national Sanda champion and Spanish national K1 and Muay Thai champion.
Andrey Chekhonin from Russia is well known to the fans of SENSHI. He is 31 years old and he is the WAKO PRO low kick World champion from 2020, a WAKO low kick World kickboxing champion from 2015. He is a 2-times winner in "Battle of champions", a bronze medalist from the Tatneft cup, and a champion from CIS kickboxing. Chekhonin is a 4-times Russian kickboxing champion.
---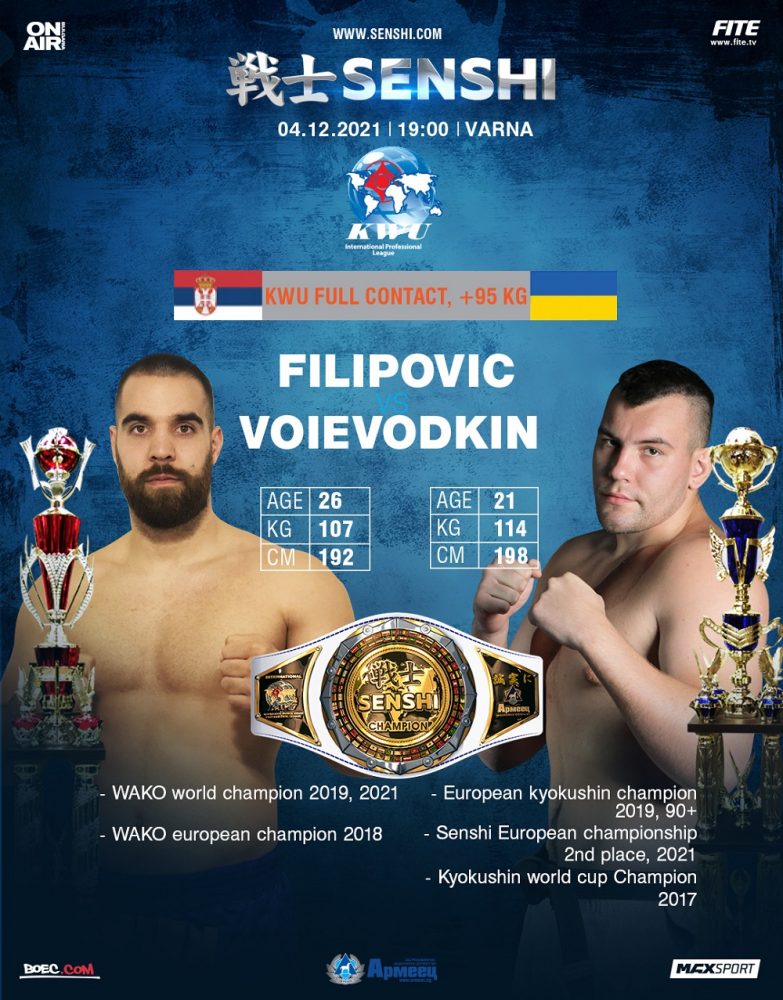 Fight #8
Cat. +95 kg, ruleset: KWU Full Contact
Nikola Filipovic, Serbia vs. Danylo Voievodkin, Ukraine
Nikola Filipovic from Serbia is 26 years old. He is a 2-times WAKO world champion – from 2019 and 2021. He also won the WAKO European championship belt in 2018.
Danylo Voievodkin from Ukraine is 21 years old. Fans of SENSHI first saw him during the European KWU Professional League Championship in Kamchia in July. He reached the finals and won a silver medal. He is also a European Kyokushin champion and Kyokushin world cup Champion. Voivodkin is also a Ukrainian K1champion and 8-times National Kyokushin champion.
---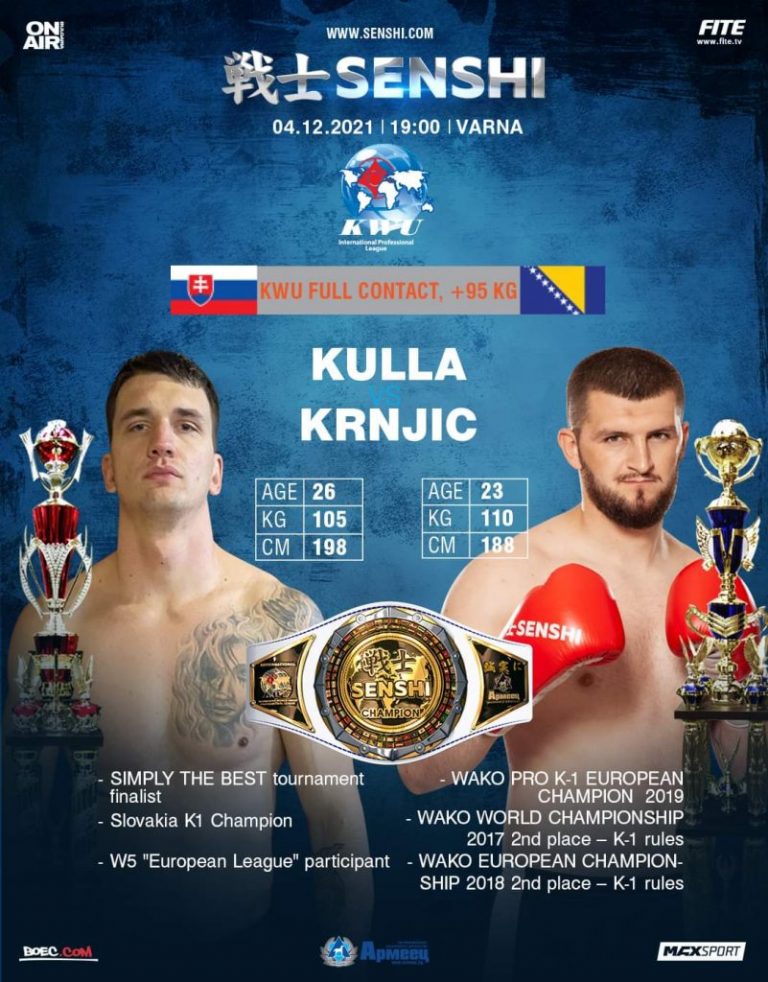 Fight #9
Cat. +95 kg, ruleset: KWU Full Contact
Radovan Kulla, Slovakia vs. Ahmed Krnjic, Bosnia and Herzegovina
Radovan Kulla is 26 years old from Slovakia. He is a national K1 champion. A W5 European League participant and a finalist from the "Simply the best" tournament.
Ahmed Krnjic is from Bosnia and Herzegovina. He is 23 years old and he is a WAKO PRO K-1 European Champion and a silver medalist from the WAKO K1 World and European Championship.
---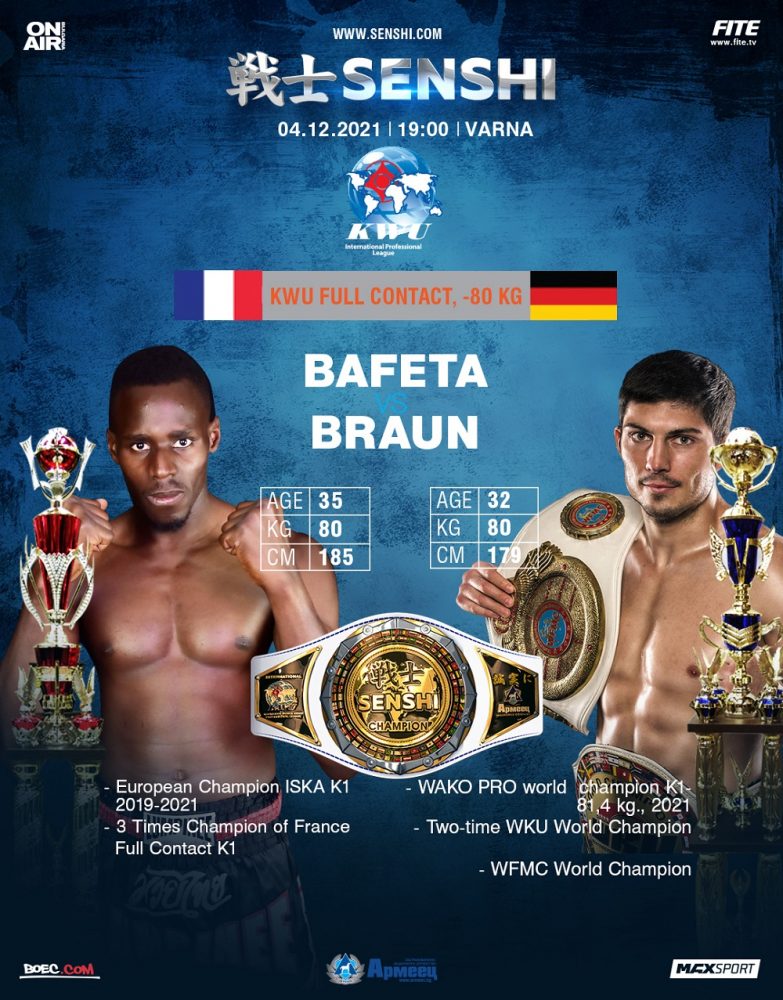 Fight #10
Cat. 80 kg, ruleset: KWU Full Contact
Assane Bafeta, France vs. Sergej Braun, Germany
The tenth final clash will be the big culmination of the evening. In it, we will see the debut of the triple K1 Full Contact champion of France Assane Bafeta. He is a European ISKA K1 champion and his professional record is 41 pro duels, 36 wins – 18 of which with KO. Bafta's participation at this edition of SENSHI was decided at the last minute, after the original opponent of Sergej Braun – Nicola Todorovic from Serbia was tested positive for COIVD-19. SENSHI`s team is wishing him a quick recovery!
This is the second time COVID ruins a match between Braun and Todorovic. The two of them had to meet each other on the ring on May 22 at SENSHI 8, but at the last minute, days before the gala, Braun was diagnosed with coronavirus.
The 32-year-old German fighter Sergej Braun is WAKO PRO world champion, winning his belt (style K-1, category 81.4 kg) in the seventh edition of SENSHI in February this year. He is also a two-time World Kickboxing Champion (WKU) and a Diamond Cup Kyokushin Karate Champion.
SENSHI 10 Fight card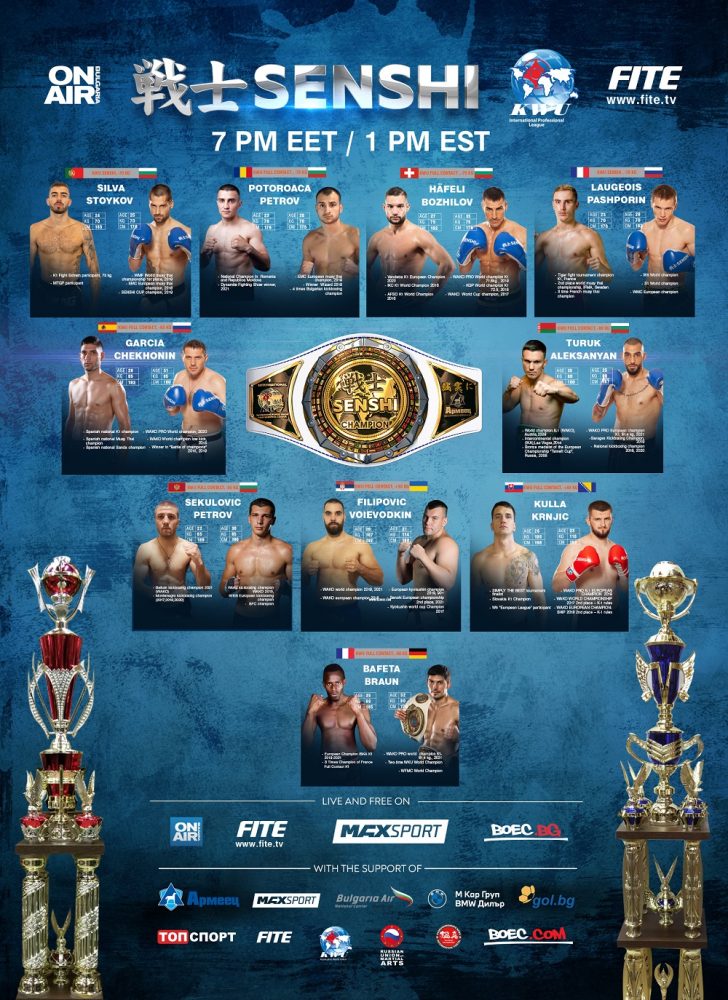 ---

Follow our website and the social media profiles of @kwunion & @senshi.gala

#senshi10 #kwusenshi
---
SENSHI 10 fight nigh is organized with the KWU International Professional League, Armeec Insurance Group, Max Sport, Bulgaria Air, M-Car Group cooperation.
The media partners of the event are Boec.BG and Boec.COM, Bulgarian national TV Bulgaria ON AIR, US online platform for combat sports FITE, Gol.bg, Topsport.bg, Kwunion.com, Russian Union Of Martial Arts, KyokushinКarate.News and Fighto.News.