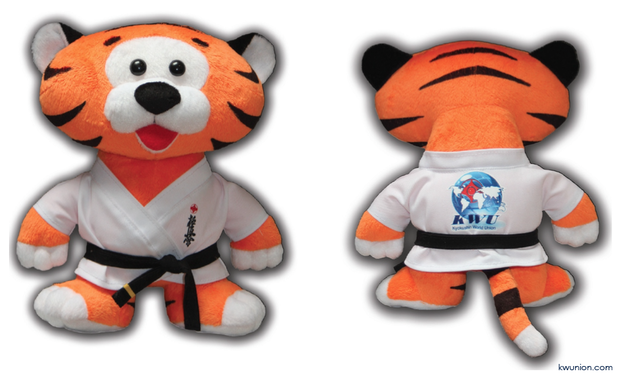 Organizers of the Championship took very seriously the process of choosing a character that must symbolize Kyokushin as well as Khabarovsk Krai and World Championship – Khabrick
Amur Tiger (Amu'r is name of river that flows along Khabarovsk –  translator's note) perfectly combines all required characteristics. It is the owner of vast territories, and an object of deep respect from many peoples of the Far East, and Khabarovsk is part of its area of living. Amur Tiger symbolizes power, bravery, and despite all its massiveness it remains flexible and agile – just like elite Kyokushin competitor.
Image of tiger was unanimously approved by organizing committee, that is lead by Vyacheslav Shport – Governor of Khabarovsk Krai. Further a contest of mascot sketches was declared.
This stage became the most tense. Many Russian artists took part in a contest, as well as representative from Vietnam. It took a long time to choose a tiger that would satisfy everybody. Somebody drew tigers that looked like people, some artists drew them too severe.
As a result, two tigers, in particular – adult and baby tiger made it to the finals stage of the contest.
On June 5th co-chairman of Kyokushin World Union Yuri Petrovich Trutnev summarized the contest by approving a baby tiger as a mascot. This baby tiger came out young, but quite tough. It looks a little naive, but at the same time persistent and ready for achievements. And most importantly it came out very friendly!
Professionals from LLC "Igramir" became winners of the contest and they were the ones whomanufactured it as a soft toy.
Name of the baby tiger has not been invented immediately. Organizing Committee was lucky enough when they decided to test first samples on kids. Zhenya Eliseykina – 13 years old student of Khabarovsk high school number 3 almost immediately invited name for her baby tiger, that everybody liked.
So, meet baby tiger Khabrick, made with love, especially for World Championship!