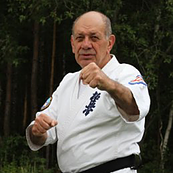 Hanshi Arneil has begun studying boxing, judo, and then karate in 1949.
Arneil was the first one in the history of Kyokushin who withstood the test of 100 fights.
After the first victory over the Japanese fighters in Paris in 1975, the French Karate Federation awarded to Steve Arneil the title of "Best Coach of the world", He got into the Guinness World Record.
Hanshi Steve Arneil – president and founder of the International Karate Federation, IFK.