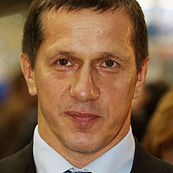 Yuri Trutnev, the Chairman of Presidium of Russian Kyokushin Association.
Born March 1, 1956, in Perm, in the family, working in an oil sector.
After graduating from high school in 1973, he entered the Perm Polytechnic Institute, graduated in 1978, qualified as a mining engineer.
In 1988 he has founded and headed the sports and health association, called "Contact".
Since 1990 – General Director of "EX LIMITED", from 1996 – President of "E.K.S. International" corporation, uniting businesses of the "EX" group.
Since 1994 – Chairman of the Committee on Economic Policy and Taxes of Regional Legislative Assembly and the deputy of the Perm City Duma.
Since December 9, 1996 – The head of the city of Perm.
Since March 9, 2004, – the Minister of Natural Resources of the Russian Federation.
Since 2013, – Deputy Prime Minister of Russia and Presidential Envoy to the Far Eastern Federal District
Practices Kyokushin since the 1978 year;
Holds a 7th Dan in Kyokushin,
Other hobbies: racing, hunting.
June 1, 2005, the Minister of Natural Resources and environment of the Russian Federation Yuri Trutnev was elected as a co-chairman of the Russian Union of Martial Arts.
Married, bringing up five children.